Huntington University's most recent addition is located by the practice soccer fields and is already being used for courses related to animal science and agriculture, as well as a meeting space for the Collegiate Farm Bureau chapter and Pre-Vet Club.
By Laura Caicedo
Co-Editor-in-chief
This project was born as a byproduct of one of the newest buildings on campus, the Ware Plant Science Production Facility in the Dowden Science Hall, a greenhouse used by the biology and agricultural department, and the horticultural club.
President Emberton, the HU Agriculture Advisory Council Dr. Raymie Porter, Nate Perry, and Jessica Baggerman were the ones behind the plan since the next logical step was to have an animal-focused facility.
"The design of the building went through several versions, especially as new donors and supporters came on board to help us get to the building we know now," said Baggerman.

The Don Strauss Animal Science Education Center is a 10,000+ square foot building with a 1,400 square foot classroom. In the barn section, there are separate areas for poultry and swine due to biosecurity precautions, as well as an area for receiving new animals.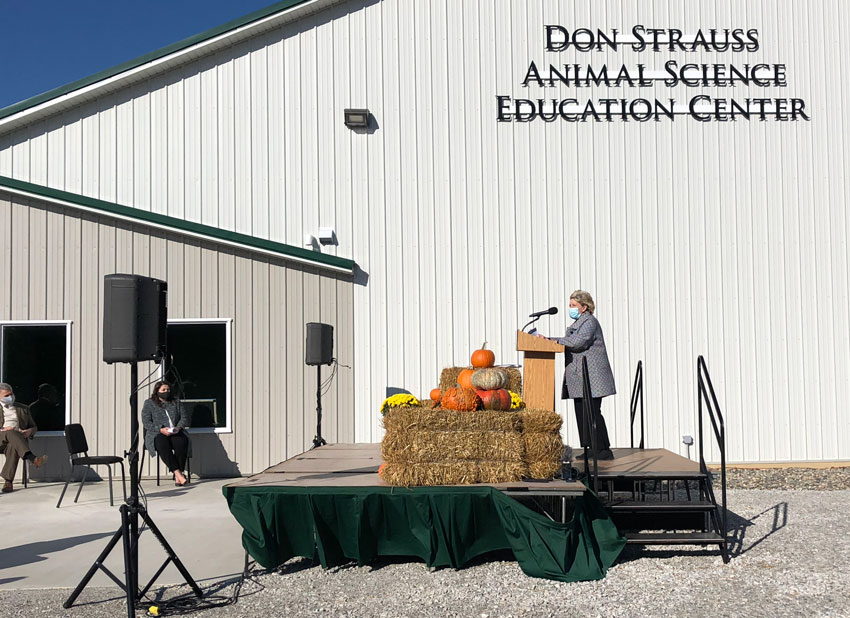 "In the future," said Baggerman, "student-led research related to animal health and nutrition will occur in the barn area."
The location might seem far away from the main education buildings on campus, but students who saw the progress during the Fall of 2020 brought the excitement of having the facility available for classes in the Spring 2021 semester.
The Department of Agriculture will continue to use the building for instruction in agriculture classes, student research activities, and as a meeting space for student groups. Occasionally, community groups will have meetings in the classroom space.
"I am most excited for the expansion of the number and type of animals we have here at the Don Strauss Animal Science Education Center," said Baggerman.
There are currently two female pigs that will be bred soon and six goats – two mothers that each have a set of twins that were born inside the building.
"We are in the process of building a fence to allow for pasture access for animals," said Baggerman, "which will allow for a greater variety of animals at the barn."
With egg production on the way as well, Baggerman thinks that it will be an exciting opportunity for HU's Forester Farms.