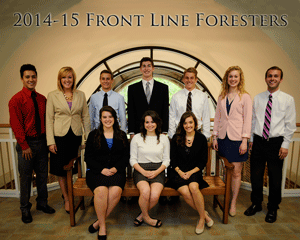 The new group of Front Line Foresters will be hired soon. The program is in its third year of existence and will remain a closed application process.
Every spring,Vince Haupert, vice president for advancement, sends an email to campus faculty asking for recommendations of students they believe to be spiritually grounded, academically successful and professionally mannered to join university's student ambassador program.The current group of Front Line Foresters are also asked for their recommendations.
The group meets with donors as representatives of the student body at fund-raising events or on-campus gatherings.
Students must have a 3.0 GPA or higher and must fulfill the expectations of the community life agreement to be considered for the Frontline Forester program.
"I don't tell them [they were recommended] until they're ready to be interviewed," Haupert said. "They have no idea. And if you get an interview, you're probably going to get hired."
Once hired, Front Line Foresters sign a legally-binding confidentiality agreement to protect the privacy of donors. A breach of confidentiality results in their termination as a Front Line Forester and affects their status as a student, Haupert said.
The position is one of the most prestigious, highest paid student positions on campus, Haupert said.
"It's designed to be that way," he said. "We want students who are going to be naturally making a good first impression … and be able to represent the university and the student body well."
The position pays above minimum wage at an hourly rate.
"More is expected of them" Haupert said. "They have to look nice, their hair has to be done. They have to look like they didn't just crawl out of bed. It takes a little bit of their own expense and effort. So we need to compensate them for that. We can't pay someone minimum wage when you're expecting them to look and act like a professional."
Additionally, a donor makes a gift every year to fund for the group's professional outfits. About $100 is spent per person, Haupert said.
A new group of students are chosen every year with the exception of one junior male and one junior female entering their senior year to maintain continuity within the program.
Sophomore Cody Melin said he is concerned with the recommendation process because there are several potential candidates that might slip under the radar because they "may be quiet and not well known to the professors."
"I know many people who would make good candidates but are not social enough in classes to get nominated," Melin said. "[But] when it would come time to talk to donors, people can easily channel that."
Junior Taylor Martin said the current team of Front Line Foresters represents the student body well, being both "attractive" and "friendly."
"That being said, I don't know if it is fair that it's not an open application like everything else," Martin said. "The reality is, I think there are tons of great kids who aren't chosen as Front Line Foresters, who probably aren't put up for Front Line Foresters."
Senior Andrew Wickersham said he approves of the ambassador program as long as the selection process results in Front Line Foresters who are widely respected by the student body and are a good representation of the university's values.
"There does, however, seem to be a growing consensus among students that the current process is unfair," Wickersham said. "If making the process open to all applicants increases the credibility of the program among the student body, then I think it is worth trying."
Interviews for next year's Front Line Foresters will begin later this spring.